Welcome to North Coast Credit Union, Tesoro Members. This is your new website since Tesoro NW Federal Credit Union merged with North Coast on June 1st.
Protect Yourself. Beware of Spooky Scams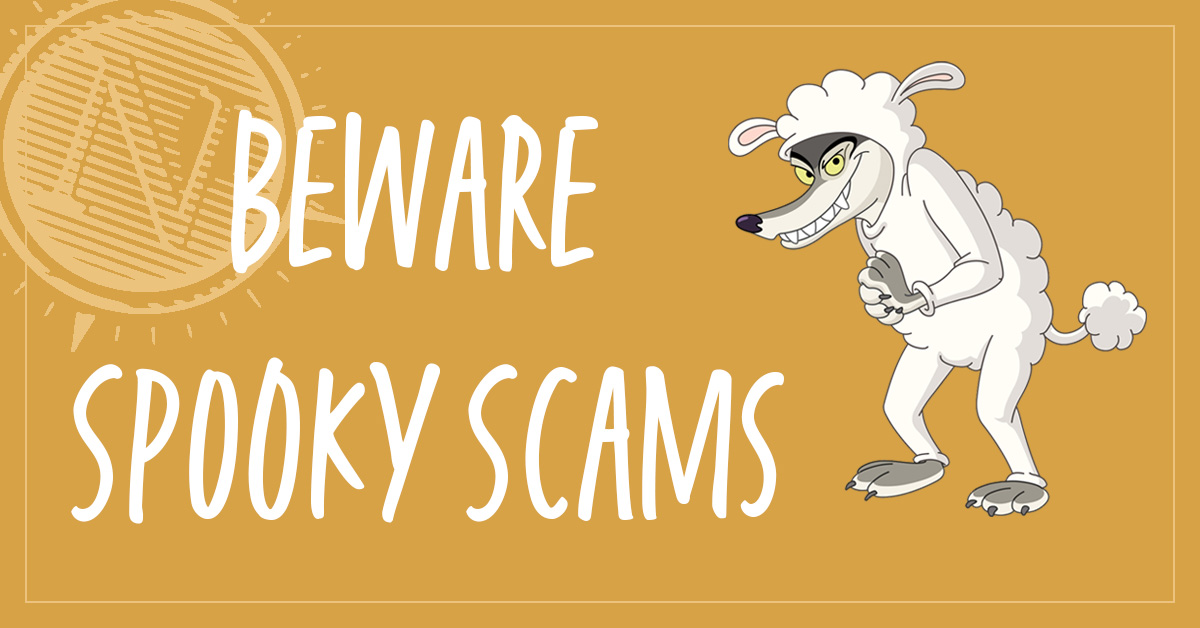 Scammers are using every tool they can to get people to give away their information and money. They target people of all ages by call, text, email, social media, or even snail mail hoping for people to fall victim to their scams. But don't fear! You can protect yourself and learn how to spot a scam!
DON'T
Don't send money or give out personal information in response to an unexpected request.
Don't share passwords, account information, or anything sensitive via social media.
Don't deposit a check and wire money back.
Don't pay upfront for a promise.
Don't accept a job that asks you to transfer money.
Never send money to collect a prize.
DO
Double-check a company or product before doing business with them. See if there are results with words like "review," "complaint," or "scam." You can even lookup phone numbers to see if they have been reported as scams.
Hang up on robocalls.
Be skeptical of free offers
Here are a few top scams to beware of: Imposter Scams, Prize Scams, and Fake Check Scams.
Imposter Scams
According to the Federal Trade Commission (FTC), Imposter Frauds were the number one fraud reported in 2019. Scammers pretend to be someone from the government, a well-known business, a family member, or a love interest to get people to give away their money or
information. Scammers can create online dating profiles, social media accounts, can spoof local phone numbers, and steal logos from legitimate businesses. In this digital age, it is important to suspicious of anyone asking you for money and make sure it is a legitimate source before giving away your money or personal information!
Prize Scams
Prize scams: if you have to pay, it's not a prize.
It is a prize scam if you get a call or text out of the blue to inform you that you've won, but you need to pay or give information to collect.
It is a prize scam if they require that you wire money to ensure you receive your winnings.
It is a prize scam if they send you a check and then ask for some of the money back. It will be a fake check and you'll be out any money you send.
No legitimate lottery or sweepstakes will ask for you to purchase something to enter or improve your odds, nor to ensure that you receive your winnings.
Counterfeit Check Scams
Fake Check Scams include giving you a counterfeit check to deposit and then asking for you to send money back under some pretense. When you deposit a fake check it will look like you have those funds in your account, so the scammer will rush you, pressure you, to quickly send money back. At some point, the financial institution will recognize that it was a counterfeit check, but you will have already sent your money to the scammer! Beware of anyone rushing you to return or redirect money they have just sent you.
The Federal Trade Commission website has many articles on the various scams you may encounter, and tips on how to protect yourself:
Imposter Scams: https://www.consumer.ftc.gov/features/feature-0037-imposter-scams
Prize Scams: https://www.consumer.ftc.gov/articles/0199-prize-scams
10 Things to do to avoid fraud: https://www.consumer.ftc.gov/articles/0060-10-things-you-can-do-avoid-fraud
Top Frauds of 2019: https://www.consumer.ftc.gov/blog/2020/01/top-frauds-2019